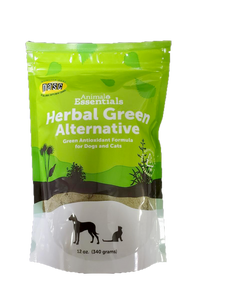 Animal Essentials
Green Alternative
Regular price
$34.99
$0.00
Description
Green Alternative 
For Dogs & Cats
This product offers a synergistic balance of antioxidant herbs and spirulina in an easy-to-feed formula designed to complement the natural diets of dogs and cats. It provides systemic support in food form that the body can freely digest and utilize. Unlike high-potency vitamin supplements that may provide more nutrients than can be used, this product will not place an added burden on the liver, kidneys or digestive system. Veterinarians report that senior animals respond well on this product.
Recommended Feeding:
Dogs - 1 teaspoon per 20 lbs daily
Cats - 1/2 teaspoon daily
Herbal Ingredients: Organic Flax Seed Meal, Organic Burdock Root, Organic Nettle Leaf, Organic Spirulina, Organic Pumpkin Seed, Organic Garlic.
---
People Also Bought