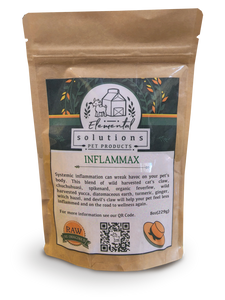 Solutions
Inflammax
Regular price
$38.99
$0.00
Description
Ingredients: Cat's Claw, Chuchuhuasi, Spikenard, Yucca, Diatomaceous Earth, Feverfew, Turmeric, Ginger, Witch Hazel, Devil's Claw
What is this product used for?
Yucca schidigera is a root plant known for reducing inflammation and pain. It contains resveratrol and inhibits the initiation of multiple inflammatory responses.
*This product is not intended to assist with repair of tissues that may be causing pain. This product can help decrease inflammation (which may further degrade the tissues if not controlled) while using other products in tandem to assist with structural support.
For structural support, consider the addition of the following:
Chicken gelatin Jiggles
Fish gelatin Jiggles
Pork gelatin Jiggles
Whole, raw Sardines
*You might be wondering why we didn't put Glucosamine and Chondroitin alone on this list. Well, to be honest we're not a big fan of them in synthetic or isolate form. Glucosamine and Chondroitin are 2 components of an entire tissue matrix.  Imagine you were maintaining a skyscraper and you only had rebar and cement. While those are very important foundational components, they are not nearly sufficient to maintain or repair damage to the aging structure of the building… you need lots of other things! Tissues are the same whether you're talking about joints, ligaments, the heart, the kidneys… anything that degrades in the body. Nature, unlike man, provides whole food products that contain all the components of the tissue matrix, such as the Solutions Jiggles. Further, glucosamine is often sourced from shellfish which may cause allergies, and has large, hard-to-digest molecules that may cause upset stomach… these aren't concerns with the products we listed above.
---
People Also Bought