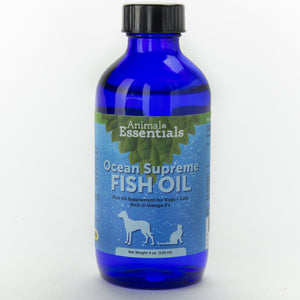 Animal Essentials
Ocean Omega Supreme Fish Oil
Regular price
$15.95
$0.00
Description
For healthy skin & coat, healthy nervous and circulatory systems, and a strong immune system. 
The fish used in Ocean Omega Supreme are harvested from the cleanest and most sustainable fishery on earth. Each bath is distilled by state of the art methods to remove pesticides, heavy metals, and other contaminants, and is then tested for purity at a third party analytics laboratory. 
Fortified with antioxidant vitamin E that your pet needs to maintain vibrant health. 
---
People Also Bought