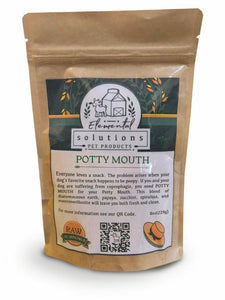 Solutions
Potty Mouth
Regular price
$36.97
$0.00
Description
Ingredients: Diatomaceous Earth, Papaya (fruit), Zucchini, Spirulina,  Montmorillonite
What is this product used for?
For discouraging consumption of poo.  "Coprophagia" can be due to behavioral issues, digestive concerns, parasites and nutritional deficiencies.  This product strives to address all of these potential causes.
Dosage and Use
Sprinkle over food. Give not only to the pet that is eating poo, but also to the pet whose poo is being eaten.
*Up to 20lbs – ½ tsp per day
*21-40 lbs – 1 tsp per day
*41-80 lbs – 2 tsp per day
*Over 81lbs – 4 tsp per day
For first time use, gradually increase into your pets diet
Storage: Store in a cool, dry place. Do not freeze.
Supplement Facts:  For animal use only. This product is intended for supplemental use only
Serving Size: 1 tsp
Servings per container: 114
---
People Also Bought