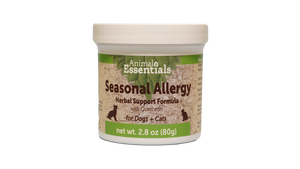 Animal Essentials
Seasonal Allergy + Quercetin
Regular price
$28.99
$0.00
Description
NEW!!!  Our popular Seasonal Allergy formula is now available in powder, with added Quercetin!   A flavonoid found in a wide variety of vegetables, quercetin is a powerful antioxidant that helps to stabilize the cells that release histamine in the body.  Histamine, when left unchecked, will act upon nerves to trigger itching and respiratory constriction--- the hallmarks of allergic reactions.  By combining quercetin along with the proven allergy support benefits of nettle leaf, eyebright herb, licorice and bromelain (pineapple enzyme), this easy-to-administer powder supplement will bring fast relief to allergies that may be caused from pollen, molds or airborne pollution.  Just in time!
Key Features:
Suitable for animals of all ages.

Helps regulate histamine release during allergic episodes.

Made with 100% human-suitable, certified organic herbs.

Helps maintain a normal inflammatory response.

One 2.8 oz (80g) jar will last one month for a 50 pound dog;  up to 3 months for a cat!
Active Ingredients (per 1gram/1/2 tsp):
A proprietary blend of certified organic nettle leaf (Urtica spp), burdock root (Arctium lappa), licorice root (Glycyrhizza glabra) and eyebright herb (Euphrasia officinalis)......850 mg
Quercetin dihydrate..................100mg
Bromelain (pineapple enzyme).....50mg
Inactive Ingredients:  None.
Directions for Use:  
Can be given during or after mealtime.
     Small dogs & cats up to 25 lbs:  1g (1/2 tsp) daily.
        dogs 25-50 lbs:  2g (1tsp) daily.
        dogs over 50 lbs: 2-3g (1 to 1.5 tsp) daily.
---
People Also Bought